Codeless BI from Altosoft
Recently I received a briefing from Altosoft to take a look at their 4th generation product – Altosoft's Insight Release 4. Altosoft Insight is a single unified business intelligence environment that contains the entire stack from ETL to data visualization. This integrated environment allows for Altosoft users to have a completely (if desired) code/scripting-free implementation. The integrated environment also allows for the automatic management of metadata and data mart storage optimization.
This "removal" of coding and scripting from an implementation removes many of the barriers, that business users and less robust IT departments may have, in implementing a BI environment. The development interface is clean. The point-and-click choices make the creation and implementation of a BI analytic dashboard less costly than it might be with a different environment. This brings down time to implementation and ongoing maintenance issues. With this approach, Altosoft promises to increase speed to implementation and reduce total cost of ownership (TCO).
Guide Him through a Labyrinth
Victor Hugo once said:
"He, who every morning plans the transactions of the day, and follows that plan, carries a thread that will guide him through a labyrinth of the most busy life. "
While I have seen BI solutions that have presented code-less environments before, Altosoft's solution has a set of guides (a la TurboTax, in my humble opinion) that take the code-less environment one step further. These guides allow business users to feel comfortable with building their own BI components all the way from ETL to dashboard design. This reduces time to implementation and reliance on IT resources.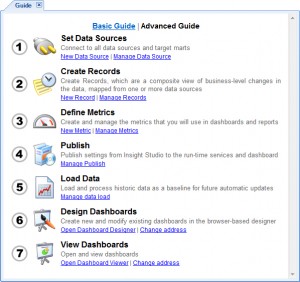 These guides also help to incorporate best practices and standard procedures from the overall business intelligence industry into the Altosoft solution.
Process and Latency Focused
Altosoft's approach to business intelligence is a little different than most. Rather than coming from a data centric approach of a database vendor, Altosoft comes from a history of business activity management (BAM) and business process management (BPM). In this, Altosoft focuses on the value brought to the business process from the data being used for rather than the value of the data itself. In this, Altosoft brings an approach that data is the means to an end.
Altosoft's BAM/BPM history puts a premium on the latency of the information presented. In fields like Financial Services, Telecommunications and Healthcare, the reduction of latency in information presentation can represent a significant competitive advantage. For finance, it represents transaction margins. For telecommunications, it represents opportunity costs associated with intangible services. For healthcare, it represents the crucial time necessary to impact the lives of patients.
I will look to see how Altosoft's approach to BI takes root with customers. I agree with Altosoft's approach that the future of many BI value propositions sits not just in the data, but in how that data is placed in the context of time-sensitive business processes.