Cloud computing can speed up deployment, reduce costs, and increase efficiency and connectivity. It can open up new ways to get computing work done, but more importantly, the inherent connectivity can change the way employees interact with each other and with customers. It can also change the way companies interact with suppliers and partners. The ease of standing up new apps and connecting with users through mobile devices, as well as the minimal capital investment, can spur innovation.
EMA research on open cloud orchestration tools in Q4 of 2014 asked what percent of enterprise workloads were running in cloud environments. While few were running 100% of their workloads in the cloud, 95% of those surveyed had some cloud workloads and 100% had plans for at least one form of cloud within 12 months (which would be right about now). Public cloud (for this data it did not include SaaS apps, but only PaaS or IaaS) was the most used, but private and hybrid cloud made a good showing at the end of 2014 and were forecasted to grow faster than Public cloud during 2015.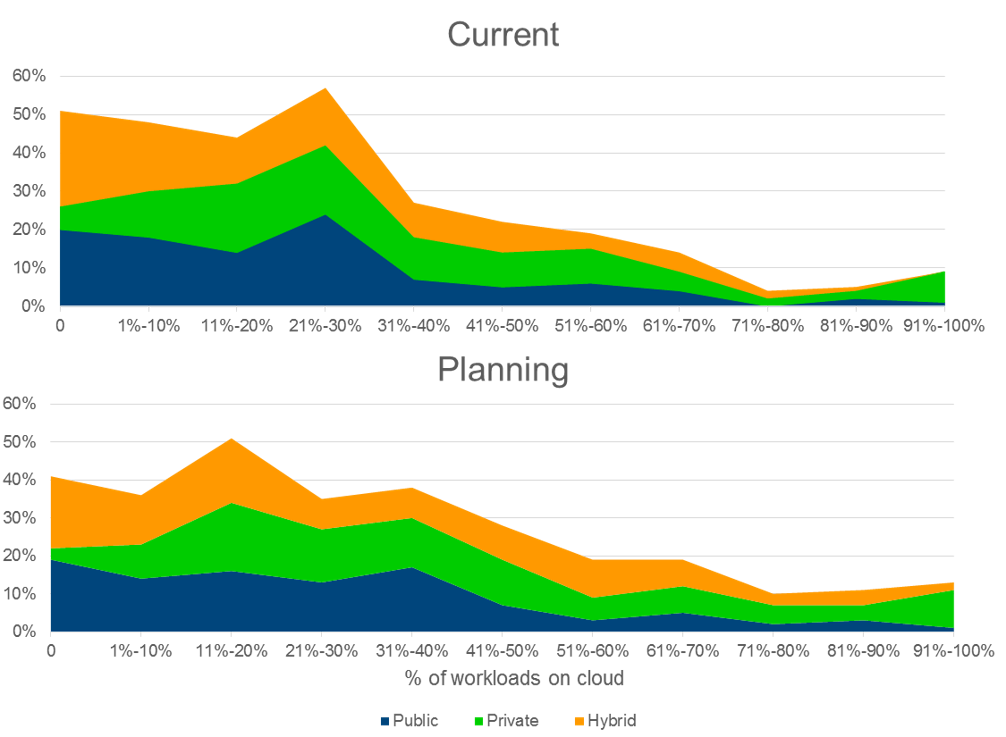 SaaS or public cloud options can get you up and running fast with little capital costs. An often missed benefit is learning from others' experience. With SaaS and public cloud, many of the dozens of choices you might have to make have been made for you. Best practices are enforced in how you interact with the SaaS software or the public infrastructure. You can find out what you like and don't like, then determine what you will do if you ever bring it on to your own private cloud environment. It has been said that public cloud is cheap to try, but expensive if you are successful. Variable pricing is great in the early stages, but as you scale up, so do the costs. Success can initiate the discussion of a private cloud.
Private clouds can be far cheaper in the long run if you are successful and have to scale out, and they also provide more control. Private cloud is getting easier as the tools to run a cloud environment are becoming available for on-premises private clouds. The big public cloud companies, pioneered by AWS, had to solve many service management, service catalog, automated provisioning, and other automation problems to run a self-service, multi-tenant public cloud service. Most enterprises could not have taken on the problem of solving all these issues to run a private cloud. However, the tools to do this in your own environment have become available. Going to school on the example of what was achieved by the public cloud companies, IT management software is now available that automates the orchestration of private cloud environments. Conversations with many users and other EMA research are revealing a trend towards greater use of private cloud. Automation, self-service, and speed of provisioning can be manifested on-premises while retaining total control over security, data, and the apps running as neighbors on adjacent systems.
Even with a functioning private cloud, some workloads will be better run in public cloud and some functions will be better handled by SaaS apps. Most enterprises will end up with such a mix. This is the beginning of a hybrid cloud environment. However, I hold to a higher standard of what makes a hybrid cloud environment, that is, mobile workloads that run in a private cloud and burst to the public cloud when needed. One challenge to consider when thinking about hybrid cloud is "where is the data?" Having the ability to shift the workloads does not instantly mean the location of the data is easily shifted too. Hybrid models must be aware of the data location and be realistic about what can run on-premises and what can run in public cloud where large, shared data sets are concerned. Whatever hybrid model, moving the software and the work to the best environment for an hour, a day, or a more permanent time horizon provides the ultimate in flexibility and shifts the focus from a purely cost-based choice to one based on best serving the needs of the business.
It is not just business workloads that can benefit from a cloud environment. Many IT operations tools are now cloud-enabled both in that they can manage cloud environments and in that they can be hosted as SaaS, on public clouds, in managed services-based private clouds, or on-premises. Tools for IT service management, asset management, monitoring, endpoint management, security, data backup, etc., are available in many cloud forms. Start with SaaS to try out a new tool; it is fast to start and great to learn best practices and experience the benefits. If you want more control, move the tool to a public cloud or bring it on-premises. The underlying connectivity inherent in all forms of cloud computing make the physical location of the infrastructure irrelevant. The real innovation possible from using cloud computing is the freedom to do what makes sense to achieve the business benefits from an automated process, without the burden of the underlying infrastructure.