(You can read more about the content of the EMA Top 3 - Enterprise Decision Guide in my first Post)
I've been getting this question a lot lately, so I want to explain in a little bit of detail how Enterprise Management Associates (EMA) has picked its EMA Top 3 vendors. It is important to keep in mind that this report does not have the ambition to compare products on a feature by feature level. It also does not have the ambition to preserve traditional product categories and tell enterprises what they already know.
[embed width="500"]https://www.youtube.com/watch?v=otqvJPQ4PYA[/embed]
So what DOES it Do?
It provides customers with pragmatic advice for their own Digital Transformation process. The EMA Top 3 report shows enterprises where the pitfalls are, what their peers are doing today and how to start looking for a solution. You should regard our EMA Top 3 vendor recommendations as a starting point that shows you, the enterprise customer, an mix of traditional and new products, all unified by looking at known challenges from a new angle.
Empirical Foundation: First We Established the Criteria

We asked 260 enterprises in NORAM numerous questions regarding what works for them and what causes them pain in hybrid cloud, containers, monitoring, serverless computing, SecOps and topics related to their own Digital Transformation. This led us to 10 key pain points and investment priorities for the following 12 months.
Next we Made Key Recommendations
We talked to customers and partners, many of them VARs and integrators, to determine what has worked for their customers and what hasn't.
And here's How We Selected Our Vendors (see the infographic but also look at the Examples below)
Ok, this was how we selected the 10 Investment Priorities for 2017, but how did we choose the EMA Top 3 vendors. We simply used the following guiding questions: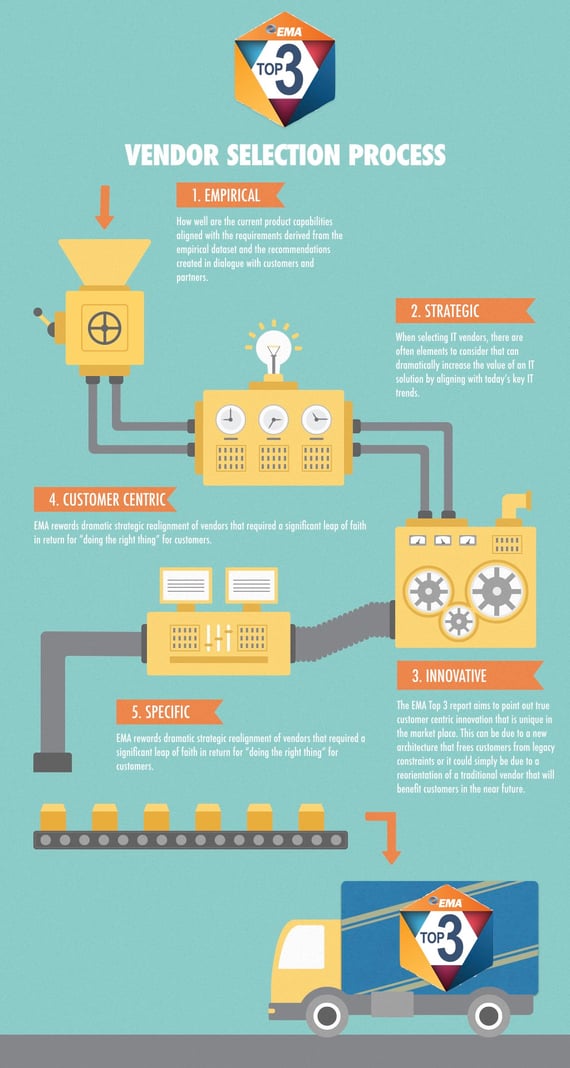 Features and capabilities aligned with empirical data: How well are the current product capabilities aligned with the requirements derived from the empirical dataset and the recommendations created in dialogue with customers and partners.
Example: E.g. a vendor has done an excellent job in demonstrating that their product enables the monitoring and management of public and private cloud through a single pane of glass. Other vendors may have more capabilities in terms of container management or go deeper when it comes to monitoring serverless functions, but this vendor offers the end to end solution that corresponds to the customer pain point "single pane of glass monitoring and management."
Strategic fit with today's key IT trends: When selecting IT vendors, there are often elements to consider that can dramatically increase the value of an IT solution. These are elements that bring tangible business advantages by aligning the customer's hybrid environment with key mega trends such as Containers, Machine Learning and DevOps.
Example: E.g. a virtualization vendor offers new capabilities to manage containers in addition to virtual machines. This would imply that customers can use the same staff that is currently managing the hypervisor to also operate containers. Maybe the container management capabilities themselves are not top notch, but the fact that they are there at all will get the customer started on their Digital Transformation process.
Customer centric innovation with the potential to change the economics of a certain market segment: The EMA Top 3 report aims to point out true customer centric innovation that is unique in the market place. This can be due to a new architecture that frees customers from legacy constraints or it could simply be due to a reorientation of a traditional vendor that will benefit customers in the near future.
Example: A hyperconverged infrastructure vendor delivers a single piece of management software that treats local servers and storage the same as AWS and Azure resources. Or another hyperconverged vendor offers a SaaS analytics engine that for the first time makes it feasible to mix application workloads within the same server cluster, without risking SLA violations. Or one of our EMA Top 3 vendor requires only minutes to sign up for a service that will get you to the 70% mark in terms of public cloud cost savings.
Strategic realignment benefitting the customer: EMA rewards dramatic strategic realignment of vendors that required a significant leap of faith in return for "doing the right thing" for customers.
Example: Traditional hardware vendors who stopped using proprietary accelerators into their solutions so that they can support the customer's legacy infrastructure.
Specific and tangible customer value: This aspect rewards vendors who through extensive study of end user requirements showed the courage and determination to focus on delivering a very specific and critical value proposition ignored by others.
Example: Our selections in the area "public cloud compliance" all offer their own very specific twist on compliance. This can either be through a new type of architecture, through a strategy that is focused on highly granular compliance reporting or, as in the case of our third winner, through a hybrid governance layer that may not be spectacular, but takes a lot of the traditional risk out of leveraging public cloud.